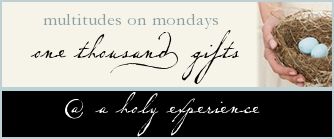 I have struggled for some years now with depression. Too many losses, the hardships of life, brokenness from sin, compounding health issues, loneliness--a recipe for depression. Through it all, I have seen with unusual spiritual clarity that the refuge for my emotions, my sanity, my spirit can only be found in the Lord. There have been moments when it was so clear I could almost touch it--the only way to lose weight, master my money, guide my children, figure out how to handle the next bill is to cling to the Lord and seek His help. I lose the clarity quickly, overcome by the wind and the waves around me ... distracted from my Lord. I often tell my kids that if they can't remember too many things of which I set a good example for them, I hope at least they remember that I was always willing to try again and to start over when I was going the wrong way or was trying to do something I felt called to do.
This year, I'm trying to change my year ... my choices ... myself ... by changing my focus. I'm convinced that overcoming depression, anxiety, fear, and so on occurs by cultivating gratitude. So I'm taking the
Joy Dare
. I'm daily recording the things I see around me that God is giving me. I've started counting my gifts--gifts I get every day, almost hourly ... or moment by moment. They are gifts of graces, given to me by my Father. I am counting to a thousand--my Thousand Gifts--and beyond. In my first week, this is the start of my list:
a NEW year filled with hope
enjoying worship together with all three of my boys
favorite old movies filled with memories and emotions
hearing God's voice in sermons and scripture
a beautiful, warm, sunny first day of the year
an afternoon nap
a kitty sleeping on the bed next to me
new beginnings
a second visit with Jackie and Gracie
changes in Grace--she's growing up!
recognition of returning to the ruts in my life.
first coffee of the year with Carrie
a camera to borrow
holding a warm, purring kitty (obviously not ours!)
Stephen waking me to "put me to bed."
a warm, safe house on a cold night
being trusted with the trials of people I love.
Smooth sheets and soft warm blankets
a turkey feast with my kids!
listening to the boys playing PS3 together and laughing
LEFTOVERS!!! (Means I don't have to cook!)
an 11-year-old who can make breakfast!
glimpses of character growth in Josh
remembering to pray with Andrew
a lazy day AND
forced return to the routine and to work
my brown eyes that look for the best in things
my affectionate, sensitive, very physical body language
a completely and totally God-given ability to look into scripture and see connections, relationships, and applications
a NEW attempt to read through my Bible in 2012, with NEW expectations of success
excitement, anticipation, appreciation in the boys eyes as I try again to make food from scratch regularly
spiritual growth in a young man's beliefs after having to let go so he could find his own path to His Father
the privilede of praying for friends in the middle of trials
a friend who finally received a successful heart transplant
a kid who loves being outside riding his bike
electricity and water paid up!
Caramel Banana Pie
the change purse Papa brought me from Nepal ... where the Gospel is so needed.
groceries!
encouragement and hope from the Gospel that is never far from my thoughts
...and counting!
If you'd like to join me, try starting with the
January Joy Dare
, in addition to other things that the Lord shows you throughout the day.